BLINGO Box Subscriptions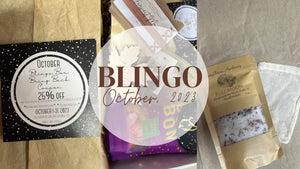 Treat yourself to a Blingo Box and an evening of fun!  Enjoy 6-8 curated and themed products, valued at approximately $100, plus your bingo cards and instructions. Most of the products included in the box are sourced from Canadian female entrepreneurs or family businesses.
*Join us on the Johnson's Facebook Page (
https://www.facebook.com/johnsonsgimli
) on the third Wednesday of each month for our "Blingo Live Show".  Chat and visit with our community of Blingo Buddies as you play along for chances to win Johnson's Gift Cards and prizes throughout the hour.
✅ Taxes and shipping are included, plus save 10% on each box when you subscribe.
✅ Choose either "In-Store Pickup" or "Free Shipping" when placing your subscription order.
✅ There may occasionally be slight variations within the curated items in the monthly box.
Details | Please choose your subscription preference: (Every Month) or (Every Other Month) 
(Subscription begins with the January 2024 Blingo Box)
👉 Billing for your first box occurs when subscription is confirmed, and subsequently on the first of each month. For example, January 1st is your billing date for the February Blingo Box each year.
*A 30-day window is required should you wish to pause your subscription, make any changes to your billing/shipping address, or cancel your subscription. Simply log in to our customer portal and edit your preferences. For example, January 1st is the deadline to make any changes to your March Blingo Box order.
*Blingo Boxes will be shipped out 1-2 business days after our Live Blingo Show each month.  For example, if our Blingo Live Show is January 17th, your February Box will be shipped to you on Jan 18-19th.  You will receive tracking info as soon as it is on the way!
*We will keep you updated on deadline dates via Email / SMS text messages so you don't miss a thing!
BLINGO Box Subscriptions