Novembbbrrrrr!
Novembbbrrrrr!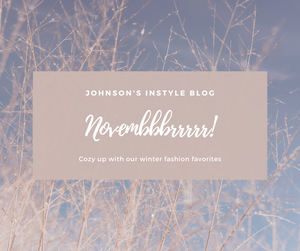 Hello everyone and welcome to our shiny new blog!  We are thrilled that you are visiting us on our new-and-refreshed website and are happy to be sharing with you all what we are loving in fashion, footwear, and fun!  
It's November, and you know what that means!  Novembbbrrrrr, those mornings can sure get chilly!  It's a great time to refresh your hall/jacket closet with a new coat, and of course matching cozy winter accessories!  A great option for this time of year is the puffer jackets, both the bomber and the car coat/fingertip length is popular this season.  We have a number of new styles and colors in this season from Tribal, here's just a couple of options!
I always love flip flops in the summer, and why should we have to give up the ease of slip-on-and-go when the leaves start turning?  It's time to swap out your Olukai flip flops for their luxurious, warm-and-cozy slippers!  One of our favorites is the
Womens Ku'i slipper-clog
, which is an easy peasy clog has a fuzzy lining that will keep you feet toasty warm, even with bare feet!  They are waterproof and slip resistant...perfect until there is a foot of snow to get through!  There are more slippers to choose from in our
Womens Slipper Collection!
  Pop over there for a peek! 
November kicks off our holiday promotions, starting off with our Black Friday Sale on Friday, November 26th and culminating with our ever-popular "Day After Boxing Day" Sale on December 27th.  After missing last year due to the retail shutdown here in Manitoba, we are so excited to be have the opportunity to have our fun events back and better than ever (fingers crossed that we won't have any changes in capacity or restrictions this winter!).  We are working on plans for Cyber Monday and Giving Tuesday in November, and an in-store evening Holiday Shopping Event and 12 Days of Deals and Recipe Contest in December...stay tuned for details!
If you are still dealing with jack-o-lantern leftovers, I just came across this interesting twist on a classic fall dinner, chili! Pumpkin is a tasty addition and one I am looking forward to trying in my own kitchen! 
Pumpkin Chili
Enjoy!