January @ Johnson's - In-Store Tour
January @ Johnson's - In-Store Tour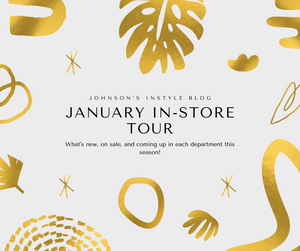 Hello and Happy January everyone! Seems like a bit of an oxymoron given Canada's current health situation, but hey, I am a "glass half full" person haha.  This post marks our first of 2022, and will be a monthly staple this year.  We'll be featuring casual pics and product highlights, behind-the-scenes peeks at trade shows and community events, recipe and book recommendations, and more! Grab a coffee or tea (it's a cold Monday morning so my coffee is HOT!...if it is warm where you are, feel free to "ice"!), and read on as we do a store tour with updates on new brands, collections and more! 
In our womenswear department, we continue to focus on our Premier Brand Partners (aka our favorites!) such as Tribal Sportswear, FDJ French Dressing, Renaur, Joseph Ribkoff, and Sympli, among others.  These are brands that FIT, whether you are a size 2 or 20, and feature a wide variety of styling options. The key in fashion right now is to buy for the lifestyle you have...which is loungewear and casual for most of us...BUT YET be able to elevate those same pieces to an evening or resort option, WHEN the opportunity arises...and IT WILL!  Sorry had to capitalize that...because sometimes it is hard to see the forest through the trees.  This fall, we really focused on comfort and ease, with stretch fabrics and warm-and-cozy sweaters taking centre stage.  Tribal featured an awesome little zip jacket and jogger combo, which we were able to repeat many times in the three colors.  This set is a great transition going into spring...consider sizing down in the pant if you would like a trimmer fit and are ok with an ankle length.  We still have a selection of sizes in stock, please check them out on the Tribal page on our website or give us a call for size availability. 
We always have a great in-stock selection of Sympli, and we are excited for the Spring Capsule to arrive, featuring new prints and new styles to complement your Year-Round Capsule. In the meantime, we do have a number of styles in stock that are a great work-to-weekend option, such as the new Joggers and Hoodies.  If you are a frequent in-store shopper, you will know that I am wearing Sympli in some combination daily!  All of the year-round and the fall capsule are listed on the Sympli page of the website for your viewing pleasure!
Looking ahead to Spring 2022, we are excited to launch new collections of brands you know and love, as well as launch new lines for us.  One we are particularily excited about is Shannon Passero, a fellow Canadian female entrepreneur and retailer.  If you are familiar with Pure Sweaters and Neon Buddha, you will be familiar with the design details of Shannon Passero.  She was the designer behind both of these beloved brands until she launched her namesake fashion house in Thorold, Ontario in 2017.  She also supports a womens sewing co-operative in Thailand.  Soft and stretchy fabrics, beautiful buttons, and unique design detail make this a perfect fit for us.  We are super excited to launch this new collection in April!
Moving over to our ever-expanding footwear department, our biggest addition of Fall 2021 was Rieker Footwear, designed in Germany.  The Fall 2021 collection was so well received by our customers, both online and in-store, and we have an awesome collection for Spring 2022 starting to arrive in a few weeks.  
With January comes the perennial "get moving" resolution for some of us...if that sounds familiar, New Balance features a huge variety of walking, running, or gym shoes.  Whether treadmill, an at-home YouTube workout, or just being comfy during a long day at work, it might be time for a new pair of sneaks! Check out our selection for women and men online or pop in for a peek!
NEW NEW NEW for Spring 2022 are numerous brands that you have been asking for...but here's my Top 5 to start us off...
*Mephisto!...Anyone with arch issues is jumping up and down right now
*Vionic!...a huge variety of styling from athletic to beachy to comfort to dressy...and cute
*Bueno...feel like butter on your feet...seriously all you need to know
*Miss Mooz...also feel like butter on your feet, and in fun colors
*Dansko!...if you know, you know...your feet will thank you
and a bonus because I can't leave it out even if it is more than 5..
*Ecco - when we can go on a walking tour in Europe again, this is THE walking sandal.  In the meantime, it can be comfy for walking...everyday!
I can't express how excited we are to launch all of the new collections this spring...the above is just the tip of the iceberg!  We are planning to have an in-store event to celebrate, as well as list them on the website of course, so please stay tuned for details!
Accessories are an easy and inexpensive way to finish off any outfit;  even when we are super-casual, a pair of distinctive hoops, a signature necklace, or a couple of stacked bracelets add just a touch of "shine". 
This fall, we have re-introduced Derek Alexander Handbags, and have been thrilled with all of your interest.  The traditional and much-loved leather division is now joined by the more casual and sporty nylon styles, which are great for everyday wear or travel. 
Caracol Jewellery is our favorite brand in the accessories department, as they feature a great selection of mixed media metallics and wood pieces, rounded out with handbags and scarves. 
Louenhide is an Austrailan brand which focuses on clean and classy styling, and the popular "bag-in-a-bag" feature, which is great when you need a tote AND a smaller purse at the same time.  Don't we all need that? 
Coming up in our February post, we will likely have a few Spring 2022 deliveries to highlight for you, so we can all look forward to that!  There is nothing like unpacking bright colors and lightweight summer fabrics and prints to warm up your wardrobe and make us feel like spring might not be so far away after all.  
With hopes of a short winter and an early spring, we look forward to seeing you in-store, online, or both!
Chat soon!
:) Kim